Get your message out there!
Once you have decided upon the messages and themes of your campaign, the next step is to figure out how best to build awareness for your campaign amongst the student community and the public in general.
The most effective marketing and PR campaigns are information driven, delivered in a convincing fashion using up to date facts that are simple in their message.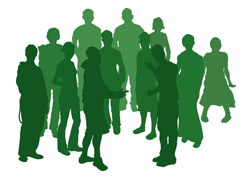 The Green Planet Awards campaigns should be about empowering people with information in relation to the most critical eco issues so they can have better knowledge and understanding, enabling them to make informed decisions that most effectively contribute to mitigating climate change as well as related health issues.
The Green Planet Awards will provide a PR & Marketing Support Team, who can be used as a sounding board for all your campaign ideas. The team will provide support when required and can offer advice on many areas including press releases, approaching local media, marketing ideas etc.
Marketing
Marketing your campaign is all about creativity and inventiveness! The sky's the limit! But always remember to respect the rights and thoughts of others who may not share your views. Great campaigning is about informing, not forcing. If in doubt, contact the PR & Marketing Support Team!
Here are just some of the ways in which you could build awareness for your Green Planet campaign on your campus and beyond:
- Build a website or blog and develop an on-line campaign
- Create an on-line viral campaign
- Build an on-line social networking community around your campaign
- On campus poster/flyer campaigns
- Organise art exhibition/installations
- Organise an environmental conference
- Lobby local government
- Create a concert or singer-songwriter night
- Initiate on-campus flash-mobs
- Organise a huge vegetarian cook off
- Start a petition campaign
- Develop media ads and slogans through video, animation or flash
...or any other ideas you come up with!
Public Relations
As always positive publicity is the best publicity, therefore it is especially important that all your statements be factually correct and backed up by credible reference. Also make sure you know what you are talking about before you decide to speak about it to radio or newspaper people! Publicity that has nothing real at its core can hugely damage any campaign. Honesty is always the best policy. If in doubt, ask your PR & Marketing Support team, that's what they are there for!
In building a PR drive around your campaign, you need to deliver a clear and focused message, one that will engage the interest of your college and local media and drive their desire to hear more about your message.
- Write press releases explaining what you are doing and send to college and local newspapers in your town or city.
- Take great photos that capture the positive essence of your campaign and submit them to your local papers and magazines.
- Speak to local journalists and ask them to do a story on your campaign.
- Contact college and local radio stations and ask them to do an interview with a spokesperson for your campaign.
- Set up a blog on your campaign website and blog about the campaign and why you are doing it.
- Invite Irish vegetarian celebrities in your campaigns (ie: singers like U2's Larry Mullen, Elvis Costello, The Cranberries' Dolores O'Riordan, and Sinead O'Connor. Actors like Pierce Brosnan and Cillian Murphy. Comedian like Sean Hughes, etc...)