Global Water Shortage & Global Warming
Water shortages and drought are emerging across the globe due to a mixture of population growth, pollution, and climate change-induced drought. Scientists are telling us these shortages are appearing outside of the typical drought cycle and are emerging to become the oil of the 21st century - creating international insecurity and conflict.

Conflict over scarce water is already being experienced in the developed world. In the normally humid US Southeast, an historic drought is the cause of an on-going legal battle over water rights between the states of Alabama, Florida and Georgia. On the other side of the continent, researchers predict the parched Southwest has begun a 90 year mega-drought, and Lake Mead and Lake Powell, the two largest man-made reservoirs in the US are predicted to be dry by 2021, severely affecting water supplies for approximately eight percent of the US population., In Australia, cities are purchasing water from farms to meet their needs as that country also battles an historic drought situation. Spain and Cyprus are importing water by ship, with no lasting relief in sight to their water shortage problems. Even normally wet England and Ireland are expected to face water shortages due to population growth and less rainfall due to global warming.
Many also recognize the conflict occurring in Darfur, Sudan as the first war in history caused by a global warming-induced drought. After centuries of relying upon each other for trade and supplies, the nomadic herdsman have been exacting genocide on their agrarian, farming neighbors, starting when both sides armed themselves during a drought in the 1980's and continuing with the advancing deserts of the Sahara.
In addressing water shortages, one of the first places governments look to reduce water usage is with homeowners. For instance, with the severe water shortages in Barcelona, Spain, people risk a €9,000 ($13,000) fine for being caught watering their flowers.
Recent research indicates instituting water rationing in agriculture and food choices are the most effective means of conserving water. A new report Saving Water: from Field to Fork presented to the United Nations in May 2008 found that only 10% of global water usage was due to home use, and another 20% was used by industry. The largest area of global water usage by far comes from agriculture, which accounts for 70% of total global water usage.
The authors of the report stated that vegetarian diets are the most efficient in terms of low water usage. The authors also state, "500 to 2,000 liters of water [are needed] to produce 1 kilogram of wheat and between 5,000 and 20,000 liters [are needed] to produce 1 kilogram of beef."
This information is consistent with a report by a researcher at University of California, Davis called Water Inputs in California Food Production, which found that an entire vegan meal can be eaten for less water than is needed to grow one serving of chicken, and one tenth the water needed for one serving of beef. The report states that a typical home serving of beef and chicken requires 1,232 and 330 gallons of water, respectively for each serving. By contrast, it takes 98 gallons for a complete vegan meal of consisting of tofu (60.5 gallons per serving), brown rice (15.7 gallons per serving) and two servings of broccoli (21.8 gallons per serving).
These statistics are consistent with research conducted in Australia analyzing water requirements for raising food using kilojoules. Many fruits and vegetables were found to have similar water requirements: apricots, cabbage, onion, rice and grapes all used between 160 to 200 liters of water per MJ (megajoule). Potatoes were among the most efficient water users, requiring 60 to 65 liters. Consistent with the findings in California, beef was found to be the least efficient water user, requiring 2,500 liters per MJ of food.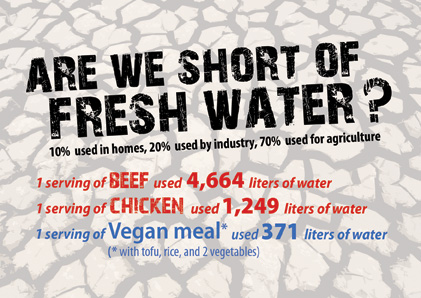 DOWNLOAD HIGH RESOLUTION GRAPHIC ABOVE
– 10% used in homes
– 20% used by industry
– 70% used for agriculture
– 1 serving of beef: 1,232 gallons of water
– 1 serving of chicken: 330 gallons
– Complete vegan meal with tofu, rice, and two vegetables: 98 gallons