The rainforests act as the air conditioners to the world, providing much of the world's fresh water, and regulating the overall temperature. But when they are burned down, they release CO2 into the atmosphere and disrupt the ecosystem of the entire planet.
Prince Charles said last year that we have 18 months to act on Global Warming by saving the world's rainforests, or face a Global Warming disaster. His idea is a profoundly simple one. Deforestation is responsible for 20% of human-caused emissions, and if we can make the rainforests more valuable alive than dead, we can immediately give ourselves time in the race against climate change.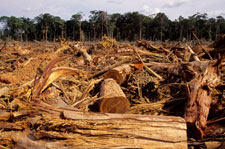 There are three main regions in which deforestation is most intense and threatening the health of our planet. These include Asia, where palm oil is being grown for biofuel and other sources, Africa, where encroaching desertification is pushing people into the forests for more farm land, and Latin America, where the greatest driver is cattle ranching and growing large mono-crops, such as corn and soya, the majority of which is fed to livestock. The two largest areas of ongoing deforestation are Indonesia for palm oil, and Brazil, for cattle grazing and raising feed crops for animals.
Because such a large portion of global tropical rainforest deforestation is related to either grazing cattle or raising feed crops for animal, it is clear that by halting our demand for meat and dairy, we can immediately have a big effect on preserving our planet.
"We are asking for something pretty dreadful unless we really understand the issues now and [the] urgency of them...We will end up seeing more drought and starvation on a grand scale. Weather patterns will become even more terrifying and there will be less and less rainfall." Prince Charles
Read more