Each year cardiovascular disease, diabetes, obesity and cancer rob people of health, money, vitality and well being, while causing unspeakable sorrow to those left behind when their loved ones are taken away. The most sorrowful truth of all is that these diseases are completely unnecessary, because they can be prevented, reversed and even cured by eating a healthy vegan diet.
The volume of research has been building over the years, linking increased consumption of meat, eggs and dairy products with higher rates of an impressively large range of diseases. At the same time, scientists are becoming ever more knowledgeable about the health-promoting benefits of antioxidants, phytochemicals, vitamins and minerals found predominantly, if not exclusively, in plant-based foods.
Read more
Cancer is one of the most deadly forms of disease, and according to the World Health Organization, cancer is among the leading global causes of disease world wide. According to a joint report by the National Cancer Registry in Ireland and the Northern Ireland Cancer registry, each year in all of Ireland, there are 19,000 new cancer cases and 11,000 deaths from cancer. The most prevalent forms of cancer are colon cancer (19.9% of men), breast cancer (28.1% for women) and colorectal cancer (15.9% for men and 12.9% for women).
Read more
Cardiovascular disease is the number one killer both globally and in Ireland, causing nearly 40% of all deaths. It costs the European economy €192 billion per year, 57% of which is used on health care 21% in productivity losses and 22% for informally looking after people.
Read more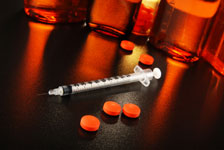 Ireland has an estimated 250,000 patients diagnosed with and another 100,000 who are estimated to be undiagnosed. Treating diabetes costs the Irish economy about €600,000 per year.
There are many studies demonstrating the effectiveness of a vegan diet to reverse, control and even cure both type 2 diabetes and related health challenges such as cardiovascular disease, amputations and obesity.
Read more
Protection From Pre-Eclampsia
Pre-eclampsia, which is pregnancy-caused hypertension, is potentially fatal. In the general population, pre-eclampsia rates in the US runs at 4%. A study of 775 vegan mothers at a commune called the Farm in Tennessee USA found one person with pre-eclampsia, making it a fraction of a percent. A report on the pre-eclampsia at the Farm concluded: "We examined the maternity care records of 775 vegan mothers for symptoms of pre-eclampsia, and only one case met the clinical criteria. Since pre-eclampsia in our culture is frequently associated with unrestrained consumption of "fast foods" (foods having high levels of saturated fat) and rapid weight gain, it is possible that a vegan diet could alleviate most, if not all, of the signs and symptoms of pre-eclampsia." Read more
Ireland is not immune to the growing threat of obesity, which the World Health Organization states is one of the leading preventable causes of death. The Food Safety Experts are predicting that Ireland is on the verge of an obesity crisis. Since 1990, the rate of obesity in women increased from 13% to 16%, and in men increased from 8% to 20%. Obesity and related issues cost the US economy an estimated US $100 billion per year and Northern Ireland £500 million per year.


Dr. Brian Clement discusses how animal based foods contribute to many of our health problems and compares plant based consuming cultures to those with high meat consumption. (6.5 minutes)

Dr. Brian Clement explains how he has experienced thousands of cases where patients were cured from serious diseases such as cancer, diabetes, heart disease, etc after removing animal foods from their diet. (2.5 minutes)

Dr. Brian Clement explains from his extensive clinical evidence the results showing in blood tests from heavy meat eaters compared to non-meat eaters. (4 minutes)

From the film " A Delicate Balance," Dr. T. Colin Campbell explains how medical research have proof of strong links with meat consuming and many types of common cancer. (5.5 minutes)

From the film "A Delicate Balance," experts explain how the animal protein found especially in casein from dairy foods have strong links with cancers such as breast and prostate. (3.5 minutes)

Our vast appetite for sea foods have quite a surprising ill affect on our health contrary to common belief. In depth scientific research presented in this video reveals some startling evidence. (7 minutes)